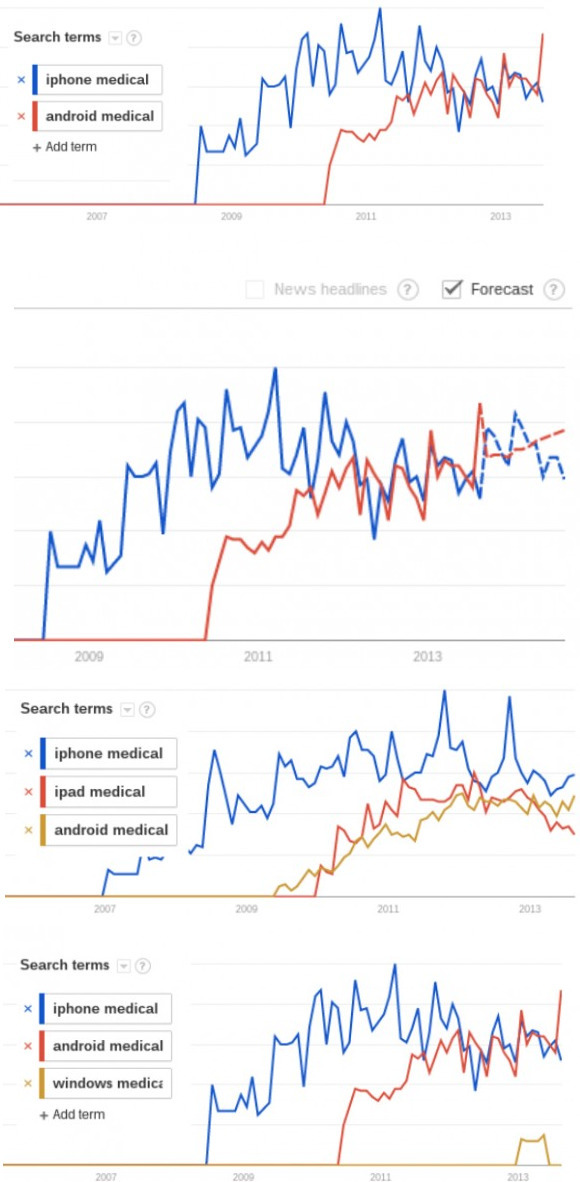 Searches for android medical recently surpassed searches for iPhone medical according to Google Trends analysis.
The Apple iPhone started as the first dominant smartphone, but Android operating system smartphones are now growing in number and claiming an increasingly large share of the market.
This Google Trends analysis below shows the relatively recent emergence of Android medical as an equal if not leading medical device in Google search. The take home message for app developers is to not ignore the Android operating system when planning and producing medical apps. Search interest in iPhone and iPad medical still remains high. Google Trends is a promising tool for continued monitoring of trends and geographic regional patterns in medical app device interest.
The screen shot for the first comparison is shown below with iPhone medical plotted in blue and Android medical plotted in red. Several noteworthy findings can be seen in this comparison. First, iPhone medical clearly emerges as the earliest device with a nearly two year period before Android medical. Second, the iPhone medical keyword search peaked in early 2012. It is trending downward since that time. Third, Google Trends shows Android medical search terms recently equaling and then surpassing iPhone medical searches.
In the second screen shot, the Google Trends forecast function shows expected trends in searches for the next few months. The forecast lines for the next six months show a trend for increasing Android medical searches with a stagnant trend for iPhone medical searches.
In the third screen shot, Windows medical search finally appears on the radar in 2013, over four years after iPhone medical. The number of searches is relatively small in comparison to both iPhone and Android medical searches.
Like the iPhone, the iPad emerged as the early leader in tablets. In the final screen shot, iPad medical searches in 2010 shows a significant upward trend through 2011-2012. There appears, however, to be a decrease in iPad medical searches over the last year.
Interestingly, the regional distribution of trends by devices shows a predominance of iPhone medical search interest in the United States, Australia, Canada and the United Kingdom. In contrast, the highest regional trend for Android medical search comes from Pakistan, the Philippines and India.
by Shane Turner via NursingFacultyJobs.com